Looking for elusive parts for your restoration project? Or maybe you have something to sell. Either way you can advertise your sales and wants on this page FREE for 4 months. ALBION RELATED ITEMS ONLY PLEASE!

E-mail your advert (including photo if you wish) to This email address is being protected from spambots. You need JavaScript enabled to view it.
Details
For Sale EN335 Cylinder head
I have acquired an Albion 335 bare cylinder head Part No 101k33. This is a rescued old stock head so has never been fitted to an engine. There is a little surface rust, but otherwise sound. I will consider any meaningful offers.
Davy Bayliss, Former Albion/Leyland dealership worker.
Dave Bayliss
This email address is being protected from spambots. You need JavaScript enabled to view it.
This email address is being protected from spambots. You need JavaScript enabled to view it.
Dave can be contacted on 01594 841172
or Mobile no is 07507759194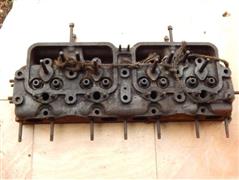 Details
For Sale: Pedal Rubbers
Club item - Albion pedal rubbers. Large style available as shown, complete with backing plates. Small style also available at same price.
£40 a pair plus £3.30 postage and packing (to the UK).
Contact Club Secretary, Walter Watson, on 01899 220708 (Biggar) or email This email address is being protected from spambots. You need JavaScript enabled to view it.